MCS will operate on a 3 Hour Delay for February 1, 2023.

It's Board Recognition Month! A special thank you goes out to our Board Members for all you do for McDowell County students. You ARE appreciated!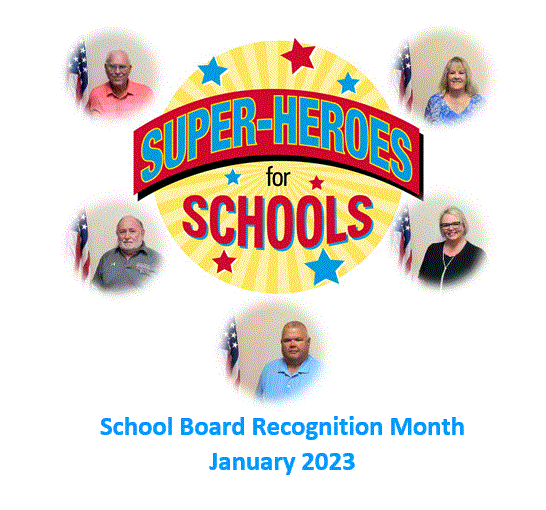 McDowell County Schools will operate on a three hour delay tomorrow, Friday, January 13.

Bus 182 WILL BE 15 minutes late this morning picking up the elementary run due to the tracks being blocked. Thank you!

MVHS will be releasing all students on Dec 19, 2022 beginning at 8:45AM due to heating issues on campus.

Mount View High School is currently NOT ON LOCKDOWN. Law enforcement officials gave the all clear for students to resume practices and after-school program as normal. Thank you for your patience. Safety is our top priority in MCS!

Mount View High School is currently under LOCKDOWN for all students involved in the after-school and sports activities on campus. McDowell County law enforcement are on campus completing an investigation. Safety is out top priority and we will release students home when the investigation is complete by authorities.

River View High School, Sandy River Middle School and Bradshaw Elementary Schools are currently on LOCKDOWN to allow local enforcement officers to conduct an investigation at the high school campus. Buses will be late bringing the students home this evening. We will notify families when children the leave campus. Safety is a top priority for McDowell County Schools and will take all measures to ensure students and staff safety are a priority.

Monday, Nov 28 is our monthly McDowell County Schools Family Advisory Council Meeting at 10:30 AM. We hope you will consider joining us! Lunch will follow meeting.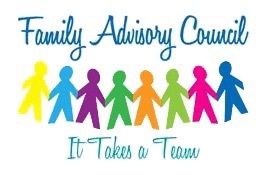 MCS - CLOSED on Thursday, November 17, 2022 due to road conditions. Those children who are already on school buses or at campus will be returned home this morning. All 240 employees please report on a three hour delay schedule.

Please consider joining the BEST school district in the state! #countystrong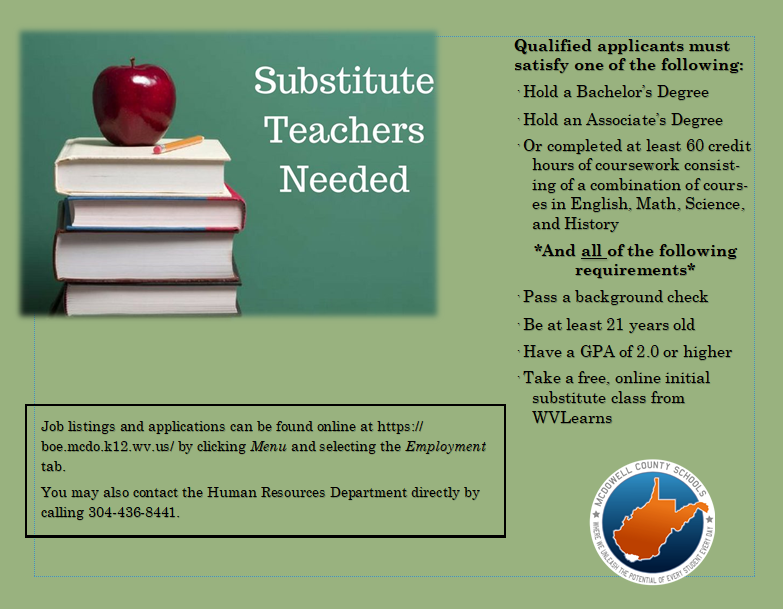 THANK YOU McDowell County 😊 for continuing to support our children and education system by voting in favor of the excess levy. Your ongoing support is appreciated. ✏️🚌 #CountyStrong

MCS - No school for students PK-12 on Monday, Nov 7 MCS - No school for students and staff on Tuesday, Nov 8 Be sure to VOTE!

Just a reminder REPORT CARDS will go home with all students K-12 on Friday, November 4, 2022.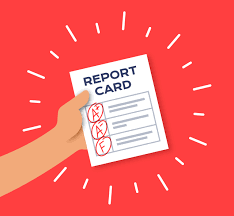 We hope that you will come out and join us for the October FAMILY ADVISORY COUNCIL Meeting October 31 at 10:30AM. Costumes encourged - laughter guranteed! Lunch will be served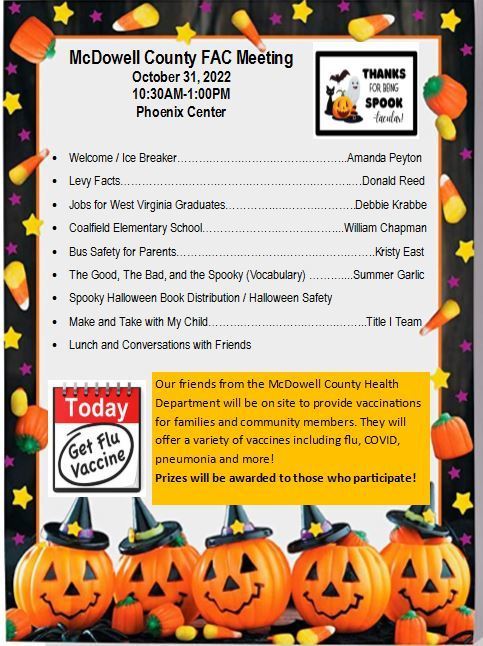 Our BOOST Afterschool Program starts tomorrow at all school sites (with the exception of RVHS) on Tuesday. Students MUST have registered in order to stay for the program. This year's program will run on Tuesdays and Thursdays for two hours after school. We cannot wait to see you at BOOST Camp!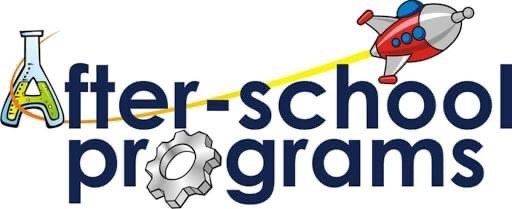 Facts about Continuation of the Special School Excess Levy on the November 8, 2022 Ballot:
https://5il.co/1jpu4

We need your input! We are asking any parent of a current Universal PreK student (BOE or Head Start funded classroom) to please complete the short survey linked below. We are currently undergoing an audit and would love to have your feedback. Thank you in advance for taking just a moment to complete this survey.
https://wvde.state.wv.us/forms/prek-parent-survey/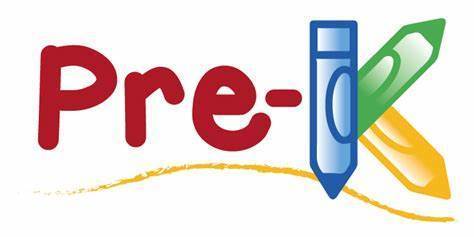 The McDowell County Board of Education currently has surplus items including school buses and other vehicles on the public surplus website. For more information, please contact Mr. Adam Grygiel at 304-436-8441
https://www.publicsurplus.com/sms/browse/home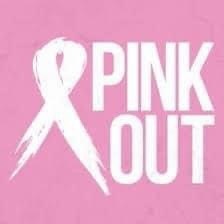 Next week is DRUG FREE / VIOLENCE PREVENTION WEEK! We hope you will celebrate bring drug and violence free with us by participating! We will highlight those who participate on FB! Send us those pictures!